Training Overview
Welcome to the Certified FETI training overview – here you will learn about our training platform, find answers to frequently asked questions, and receive helpful information to get you started with our best-in-class interview training.
For questions or assistance with choosing a training please reach out to us by email at tellmemore@certifiedfeti.com
Training Platform
Training options for your interviewing needs
The Certified FETI training platform offers training options that are designed for you and your organization to learn and develop effective interviewing skills. Select an option that is right for you.
Plus so much more...
Beyond our core training, we offer a growing number of complementary products and services to give you more opportunities to connect, practice, and increase accountability and your skill as an interviewer in your profession.
Training for the Skill of Interviewing
Our interviewing training pedagogy explained
Interviewing is a skill, not a check box.
Like shooting hoops or playing piano, interviewing is a skill that requires learning and ongoing practice to be successful. The Certified FETI training pedagogy offers purposeful learning and practice-based courses designed to not just build the skill of effective trauma-informed interviewing, but improve and maintain proficiency through the duration of your career.
The FETI Methodology curriculum is standardized and contributed to and reviewed by Certified FETI Faculty (all active interviewing practitioners) and our Expert Advisory Committees - ensuring it meets the the diverse interviewing demands of professionals across many different domains.
Learning FETI's science and practice-based curriculum, combined with the guidance and intensive practice from our Practical courses, will provide you with an interviewing skillset that is effective, neutral, and equitable.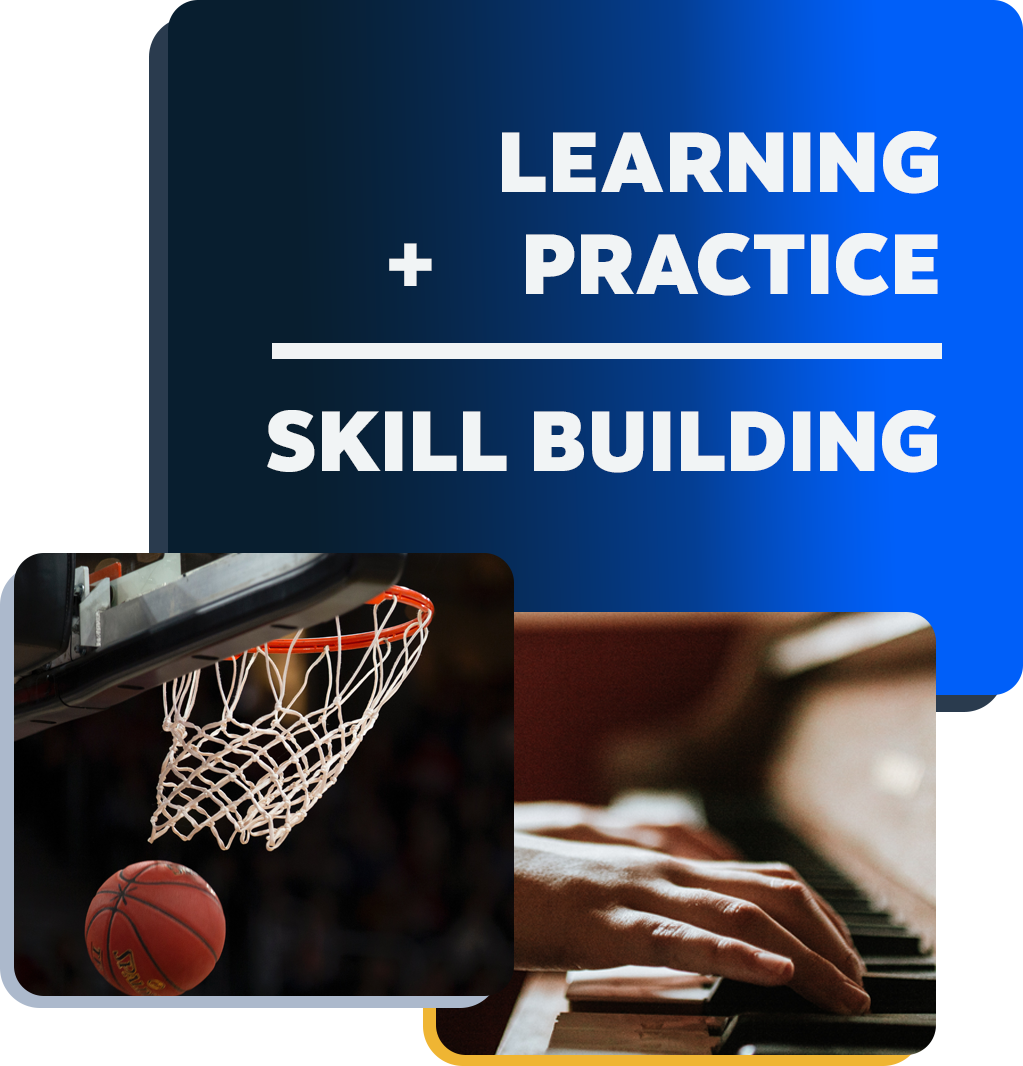 Learning
Learning the FETI Interviewing Methodology.
Learning the fundamentals of the FETI Methodology is the first step on your way to building your FETI interviewing skill. Certified FETI offers 4 different learning courses that differ by duration, modality, and services included. Each training course will prepare you with varying degrees of knowledge on how to successfully conduct a FETI interview. It is recommended, but not required, to pair a learning course with a practice course.
Looking for something more custom? Contact us for custom learning-based training.
Most Popular

The FETI Methodology Course
Introduction to FETI
Accelerated FETI
Orientation to FETI
Modality
Online
In-Person
In-Person
Online or In-person
Price
$395 per person
Contact for group pricing
$395 per person
Contact for group pricing
$495 per person
Contact for group pricing
Custom Pricing
Duration
Self-paced, 16 hours
2 days, 14 hours
2 days, 14 hours
Up to 8 hours
Prerequisites
No
No
No
No
FETI Elements
Full
Partial
Partial
Partial
Lifetime Access to Updates
Yes
No
No
No
Lifetime Office Hours
Yes
Yes
Yes
No
Professional Wellness Included
Yes
Available
Available
Available
Certificate of Completion
Yes
Yes
Yes
Available
See Course Details
See Course Details
See Course Details
Contact for more info
Need help deciding which learning-based training is right for you?
Practice
Practicing the FETI Interviewing Methodology.
Practice is essential to increasing proficiency of your interviewing skills. Certified FETI's Practical Application of FETI courses provide individuals with the opportunity to apply the knowledge gained from our learning-based training in an intensive practice environment with our faculty. Receive critical feedback, build interviewing muscle memory, and increase your skill of becoming a quality information collector.
| | Practical Application of FETI Online | Practical Application of FETI In-person |
| --- | --- | --- |
| Modality | Online | In-person |
| Price | $1,495 per person | $1,295 per person |
| Duration | 10-day cohort, 34 hours | 3 days, 24 hours |
| Prerequisites | Yes, completion of any learning course (see table above) | Yes, completion of any learning course (see table above) |
| FETI Elements | Full | Full |
| Professional Wellness Included | Yes | Yes |
| Self-Evaluation of Recorded Interviews | Yes | No |
| Personal Experience Interview Included | Available Add-on in Marketplace | Available Add-on in Marketplace |
| Training Interview Evaluation Included | Available Add-on in Marketplace | Available Add-on in Marketplace |
| Certificate of Completion | Yes | Yes |
| | See Course Details | See Course Details |
Choose your own training path of learning and practice.
Certified FETI's training pedagogy provides you with options based on your preferences to modality, time commitment, and effort. While it is recommended to learn the full FETI Methodology coupled with an intensive practice course, there are many individuals and organizations who choose different training paths.
Need help determining which path is right for you and/or your organization?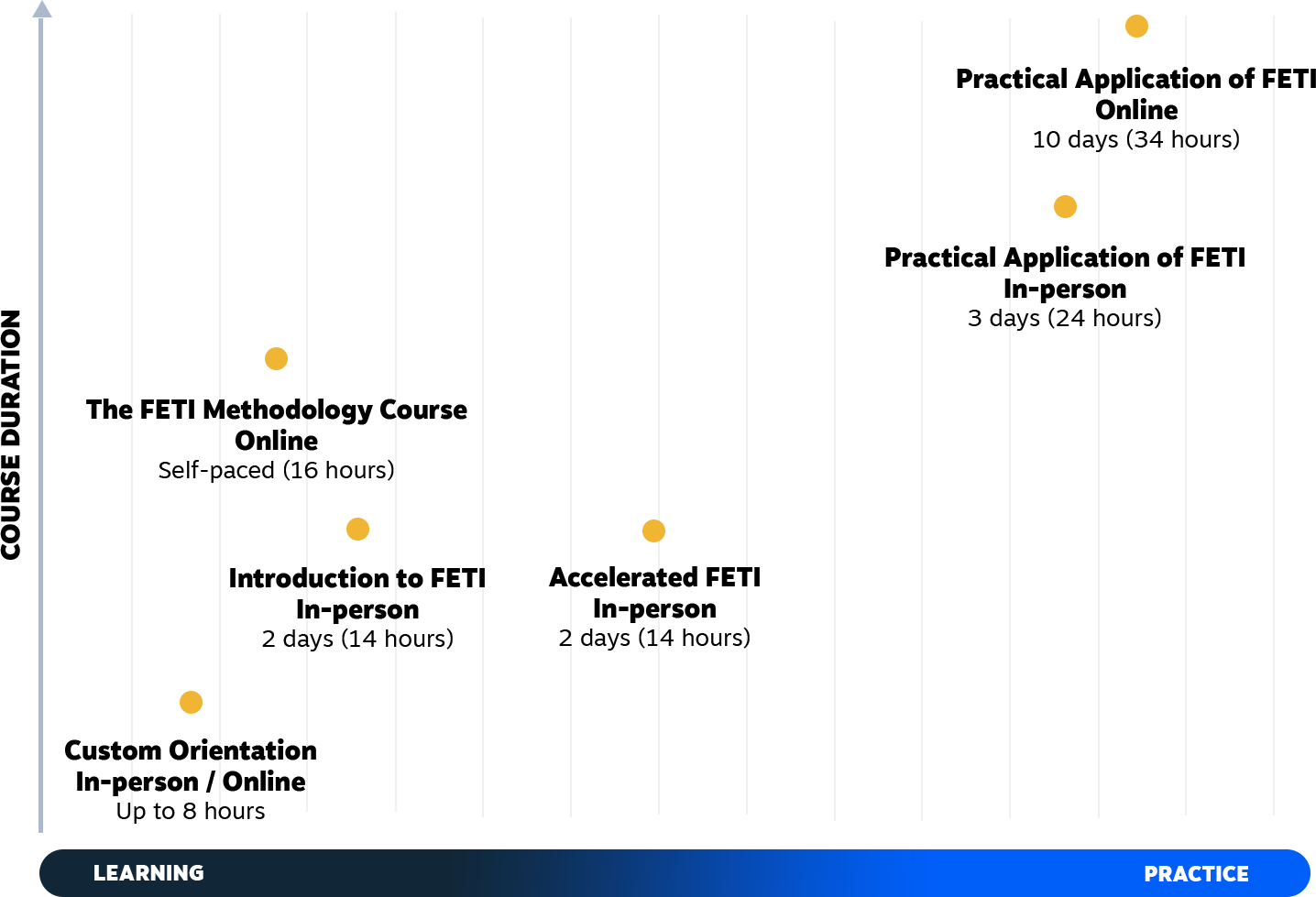 Training
Docs
Answers and FAQs about our trainings platform
Looking for more information? Explore Certified FETI's full documentation.
Our Training Difference
We approach our training with a deep respect to the skill of interviewing.
Interviewing in a professional capacity is a skill that is not only difficult to develop and maintain, but has a profound significance on the participant (interviewee) and any outcomes adjacent to the process they are involved in (i.e. investigations, evaluations, etc.)
Certified FETI training is designed and is continuously evolving to respect the high-stake demands of collecting information and accurately documenting it in a neutral and equitable manner.
Long-term Approach
Your training credentials and platform services follow you as an individual throughout your career.
Standardized & Evaluated
The FETI Methodology is standardized with evaluation metrics and is reviewed by Faculty and Expert Advisors.
Emphasizes Practice
Our platform combines learning with intensive practice to build your trauma-informed interviewing proficiency.
Real-world Experience
All of our instructors are active interviewing practitioners of the FETI Methodology in the field.
More than a 'One-and-done' Training
Receive ongoing access to our interviewing expertise, tools, and services after your training and beyond.
Meaningful Certification
Show the public you are accountable, transparent, and neutral in your interviews with certification that matters.
Individuals and organizations across the world have adopted FETI for interviewing
Hear what they have to say.
Jeffrey K. Nolan
Holland & Knight
Using the FETI® approach in higher education investigations allows us to gather information effectively and appropriately from all parties and witnesses, and interviewing for clarification ensures that the information gathered can be integrated into our investigations in a manner that is fair and equitable for all parties.
Lieutenant Nicholas Sanders
Albuquerque Police Department
FETI Training has further empowered APS's SVS to provide effective policing while supporting those victimized. Other units within SVS have also expressed the same contentment that CACU noted during their time with FETI. FETI has both been a great addition to our training requirements and a positive supportive company to work with n achieving this goal.