FETI for Organizations
Certified FETI works with organizations of all types, all over the world to bring best-in-class training, products, software, and services to empower you with the tools you need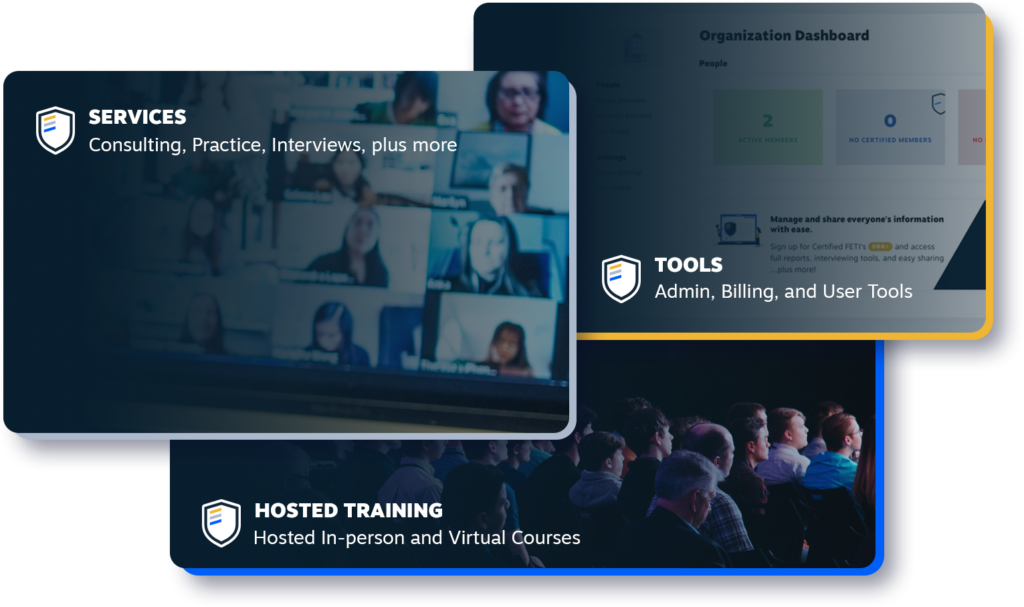 Speak to Certified FETI about interviewing training, tools, and services for your organization
Fill out the form to speak to the FETI team to learn more.
Take the important skillset of interviewing to the next level with FETI's platform for organizations.
Certified FETI's platform for organizations includes:
Hosted training courses
Personal Experience Interviews ™
Practice Interviews
Administrative Management
Billing Management
Professional Wellness
Consulting Services including:

Process review and design
Interview room best-practices
Technology considerations
Have Certified FETI come to you
The infrastructure and standardization of the FETI Methodology enables interviewers to be evaluated in a consistent manner and provides clear metrics to determine whether an interview is in fact a Forensic Experiential Trauma Interview. Certification allows individual practitioners the opportunity for professional accountability by having the governing body of Certified FETI maintain, update, and evaluate the FETI Methodology.
Learn more about hosting a FETI training at your organization
Read Hosting Docs
Individuals and organizations across the world have adopted FETI for interviewing
Hear what they have to say.
Jeffrey K. Nolan
Holland & Knight
Using the FETI® approach in higher education investigations allows us to gather information effectively and appropriately from all parties and witnesses, and interviewing for clarification ensures that the information gathered can be integrated into our investigations in a manner that is fair and equitable for all parties.
Lieutenant Nicholas Sanders
Albuquerque Police Department
FETI Training has further empowered APS's SVS to provide effective policing while supporting those victimized. Other units within SVS have also expressed the same contentment that CACU noted during their time with FETI. FETI has both been a great addition to our training requirements and a positive supportive company to work with n achieving this goal.